Grow Your Affiliate Network
Easy Affiliate Sign Up and Pay Out
Why Affiliate Lite?
Affiliate Lite is the simple solution to start your own Affiliate program, an essential marketing tool for every online business. Your Affiliates will be provided with links and banners to place on their own site, blog or share with their friends via email etc.
Admin can upload banners easily and link to their desired webpage.
Admin can set Affiliate commission rate and customer discount easily on back end.
Admin can limit how many days (or total commission) affiliate can earn from referred customer.
Easy to sign up for Affiliate program
Admin can approve and notify pending Affiliate automatically
Affiliates can see their transaction history and request automatic withdrawals
Need multiple, flexible affiliate programs including multi-level commission, check out our Affiliate Pro.
Compare Affiliate Pro and Affiliate Lite here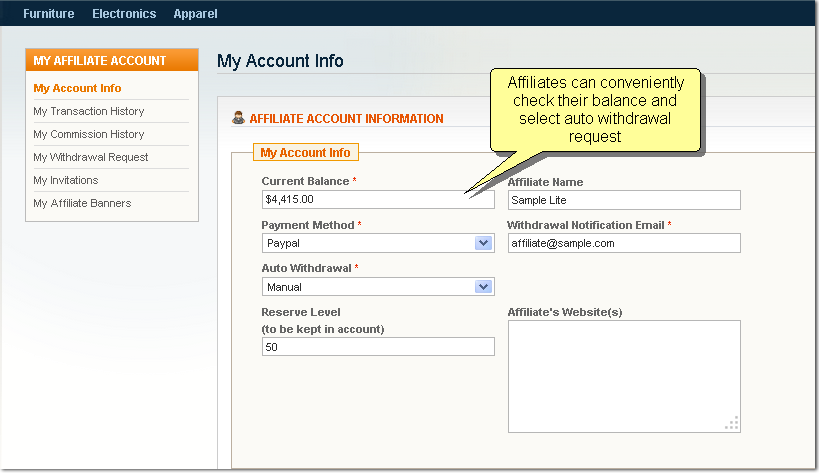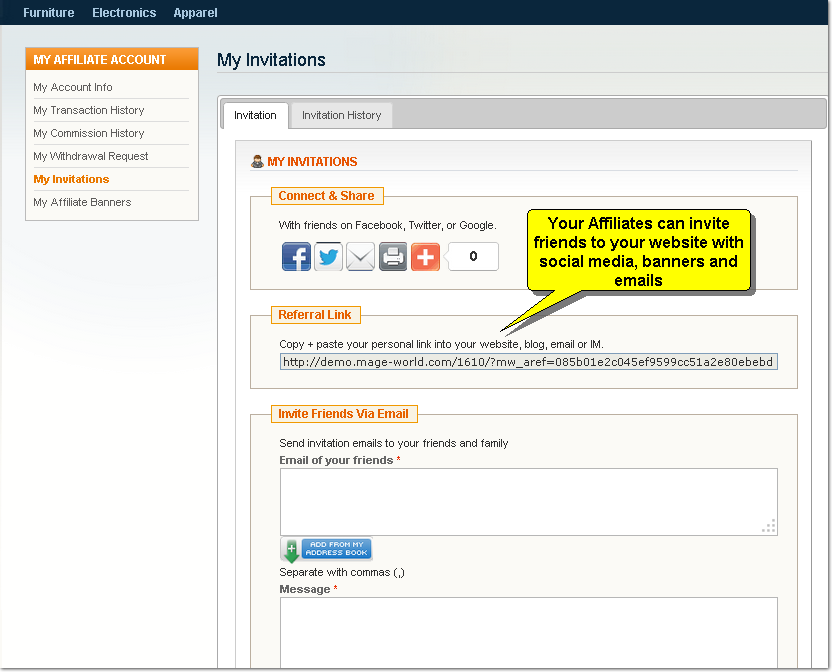 Product Features
Sign up Affiliates and manage new accounts
Easy to sign up new affiliates using Magento's sign up form or your own customized form.
Easy to update referral accounts.
Track commission/discount and transaction history
The affiliate will earn a commission and the referred customer could also get a discount
Easy to manage and track affiliate transactions with detailed commission and discounts for each product
Easy to manage and track credit.
Credit usage and Payment
Affiliate can use credit to withdraw
Select defined payment method. Decide to withdraw manually or automatically (Featured)
Support multiple payment methods
Refer friends
Easy to broadcast referral link and earn commissions (Featured)
Easy to connect and share on facebook, twitter, google buzz, and etc
Easy to send referral link to friend via email or messenger
Allow to import contact from Gmail, Yahoo, Outlook, America Online, CSV, text file…
Easy to post referral link and affiliate banner on website, blog, forum…
Easy to share referral link (refer friends) from any category or product page
Easy to manage and track referral visitors and invitation history
Always update Affiliate information with email notification
Notified when account is approved
Notified when new program is added or balance has changed
Notified when customer purchases order
Add to Cart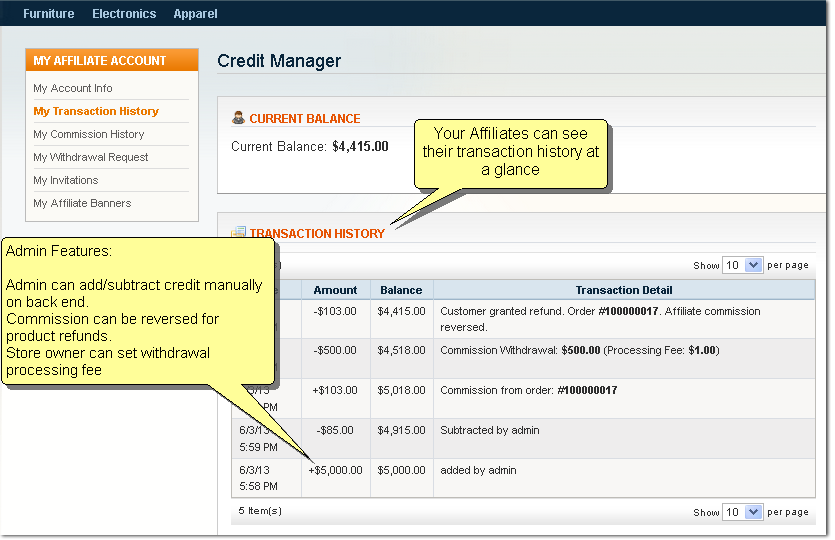 Manage Affiliate accounts
Easy to approve and manage affiliate accounts
Support auto approve affiliate account
Support reassign affiliate parent manually
Manage payment and transaction history
Easy to manage and track credit transactions
Easy to manage and process withdraw requests, support exporting pending withdral requests to CSV(Featured)
Admin can set minimum/maximum withdrawal amount and withdrawal processing fee
Admin can define payment method as well as payout schedule
Email Notification setting
Email templates are available for both administrators and referrals
Manage invitations
Easy to create and manage affiliate banners with specified link
Allow to disable "Sharing" on some specific pages like customer account, checkout, contacts…
Manage commission and discount
Easy to manage and track affiliate transactions with detail commission and discount for each order and product
Allow to set affiliate commission / customer discount to fixed amount or by percent of product value
Admin can set to calculate affiliate commission / customer discount BEFORE or AFTER discount, INCLUDE or EXCLUDE taxes
Admin can limit how many days (or total commission) affiliate can earn from referred customer
Highlighted Features
Handle sale affiliate tracking automatically via cookie, client IP and client accounts
Per-product commission and discount tracking, even on orders with multiple products
Auto-subtract commission in case of refunding or cancelled order(Featured)
Maximize referral potential by full-supporting recent referrals (provide links and banners for sharing on Facebook, twitter, blog, website… and via email)
Email confirmation and notification for both admin and clients (new members, balance change …)
View affiliate transaction (always auto-update balance change with detailed comments)
Easy manage affiliate member and their history (full information storing)
Encryption for affiliate referral link to protect client's privacy