Photo Gallery Pro is an exciting, new photo gallery extension
With Photo Gallery Pro, you can:
–          Create your own albums and sub-albums
–          Organize your pics based on category, topic or other criteria
–          Link photos to a product or other page on your website.
On front-end, customers can:
–          See album descriptions, photo thumbnails, full photos
–          View a slide show.
–          Rate and review your images
–          Upload their own photos to your albums (with admin approval).
Add Photo Gallery Pro to your cart today to organize and showcase your images easily and professionally.
Click HERE to see LIVE DEMO.
Quick View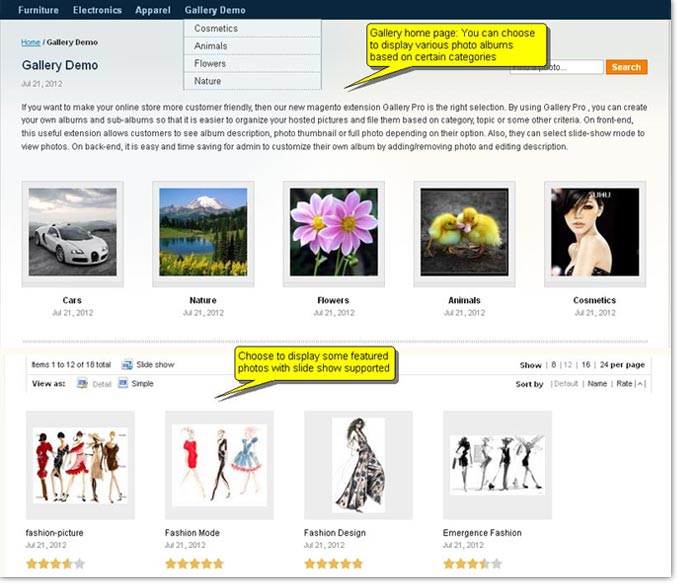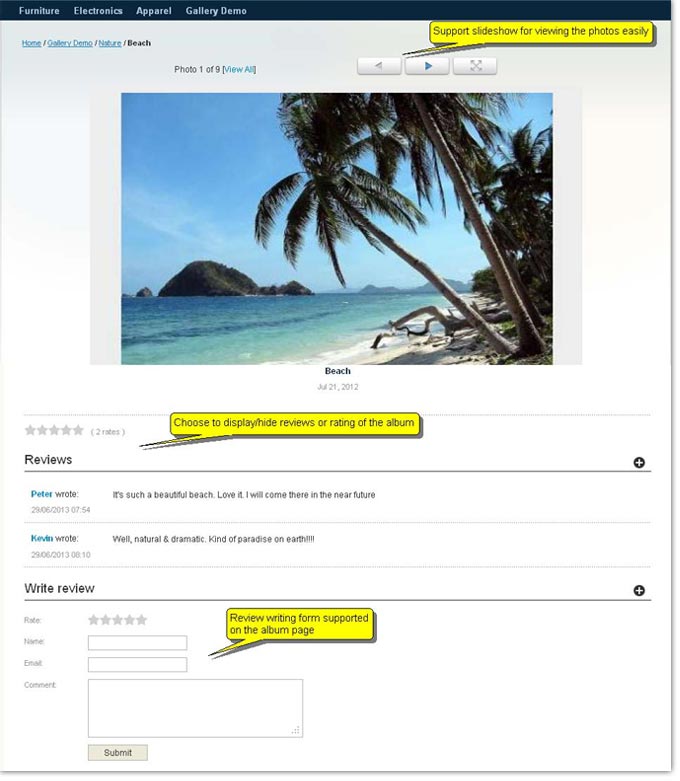 See how other Customers are using Gallery Pro
Click HERE to see LIVE DEMO.
Product Features
Manage photo albums and support multiple album levels
Manage album photos and support multiple albums per a photo
Allow to view slideshow and integrate ColorBox
Support pagination with photo toolbar
Allow customer to review and rate photos
Support feature album/photo, latest album/photo
Support photo link so you can link a photo to a product or anywhere else you would like
Clean look and feel, easy to customize with separated HTML/CSS
Optimize thumbnail to speed up site loading and allow changing thumbnail size in admin
Support URL friendly that is good for SEO
Support multiple store, allow create album for specific store view
Backend management friendly
Support album/photo thumbnail in backend
Allow to order albums/photos easily
Admin configuration with many options. See more detail in Admin Configuration session
Other features
Easy to install, easy to upgrade, just copy to use
W3C HTML/CSS validated, SEO compatible
Friendly and flexible configuration
100% open-source
Live Demo
Frontend: http://demo.mage-world.com/170s3/gallery/gallery.html
Backend: http://demo.mage-world.com/170s3/admin
Default Theme: http://demo.mage-world.com/1401/default/gallery/
Modern Theme: http://demo.mage-world.com/1401/french/gallery/