Increase customer satisfaction with Customer Credit Pro. The module provides an efficient refund method for your customers and various ways to use credit on your site.
In order to raise the customer's willingness to pay for any goods and services, beside the Reward Points Pro, we offer otherMagento Extension named Store Credit Pro. The availability of Store Credit Pro allows your customers get credit when returning products, sending and receiving credit from their friends, etc.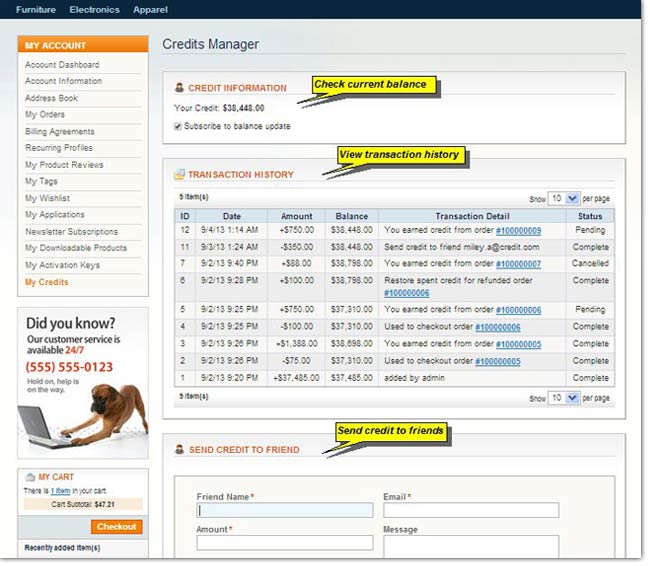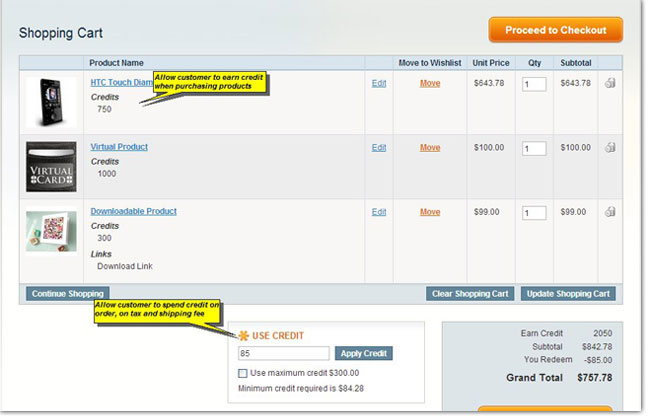 Features
Allow customers to check their balance and transaction history.
Allow customers to earn credit when purchasing products.
Allow customers to use credit to pay for their purchase on the website.
Allow customers to spend credit on tax and shipping fees
Allow the customers to send credit to their friends.
Allow the administrator to set minimum and maximum amount of credit that customer may spend on order by fixed amount or percentage of order value.
Automatically restore redeemed credit when order is refunded.
Automatically subtract earned credit when order is refunded.
Allow the administrator to activate customer email notification option on frontend
Automatically send notification to customer when balance updated or credit sent.
Other Features
Easy to manage with backend management
Easy to customize with separated form and CSS
See subcategories when clicking on category
Allow customers to receive credit via a wide range of ways (see in detail in admin configuration)
Allow admin to set configuration and manage customer credit information.
Support full HTML content
100% open source